Airport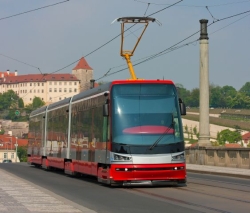 Prague Airport (Vaclav Havel Airport Prague) is located 17km from the city centre.
There is no metro at Prague Airport, so travel into the city involves taking a bus or taxi.
To travel by public transport, there are two routes. Both take around one hour.
Route 1: Bus 119 from all terminals at Prague Airport to Dejvicka metro station (line A), then take the metro to your destination in the city.
Route 2: Bus 100 from all terminals at Prague Airport to Zlicin metro station (line B), then take the metro to your destination in the city.
Fare: 32czk if you have a ticket (purchase one from the Public Transport desk at the airport). 40czk if you purchase a ticket from the bus driver (exact change required).
Transfer services for a flat rate is an alternative to common taxi service. It is as comfortable as a common taxi service, but in these cases customers pay only prices set in advance. A lot of companies are specialized in airport transfers - they check actual times of arrival, so there are no complications when flights are delayed. None of the contractual transport companies have charges for waiting.
A ride to Prague's center will cost 550 - 600 CZK (about 22 - 24 Euro).
Prague Metro
Prague Metro operates daily from 05:00 to midnight.
Peak Interval 2-4 minutes
Off-peak Interval 4-10 minutes
All areas of the city centre are covered by three metro lines: A (green), B (yellow) and C (red). The map of the metro system can be found in any metro station and in trains.
The Prague metro is very reliable and offers a safe form of public transportation around the city.
For more information, visit the Prague Public Transport website: http://www.dpp.cz/en/
Prague trams operate daily from 4:30am to midnight
The most popular trams run every 4 minutes during peak times. Other trams run every 8-10 minutes during the week, and 8-15 minutes at weekends.
Night trams operate 00:30-04:30. These run every 30 minutes and have different numbers to day trams (numbers 51-58 are the standard night trams).
For more information, visit the Prague Public Transport website: http://www.dpp.cz/en/
For your convenience, you can download the Prague Metro map

Prague Buses
Buses (autobusy) cover the outskirts of Prague and areas where trams or the metro do not run. Daytime buses run from 4:30am until midnight in 6-8 minute intervals in peak hours, 10-20 minute intervals in the off hours, and 15-30 min. intervals on weekends. Night buses (numbers 501-513) run from around midnight till 4:30am at 30-60 minute intervals.
For more information, visit the Prague Public Transport website: http://www.dpp.cz/en/
Trains
All international trains arrive either at Praha Hlavni Nadrazi (main train station) or at Praha Holesovice. Both are located on the C line of the subway and are served by several tram lines.
The main train station is located only a few minutes from Prague's city centre. At both stations you can find money exchange offices, tourist information offices and a left luggage service. For more information, visit the website for Czech Railways: https://www.cd.cz/eshop/
Taxis
Taxis, while a convenient way to get around Prague, are also the most expensive in all cases. If you simply must use a taxi, negotiate a price before entering the taxi and accepting a ride.
Look for the radio taxis, operated by major companies, and avoid independent drivers. While you won't find these taxis waiting outside the airport upon your arrival to Prague (only "official" taxis are permitted there, and these drivers are known to overcharge), you can look for one or flag one down just outside the airport.
There are lots of dependable and well regulated radio-taxi companies in Prague with English speaking operators and courteous service. These taxi companies often provide better quality, cheaper prices and accept payment in Euros. Your hotel will be happy to provide you with a number or arrange a taxi ride for you.
Local taxi rates at maximum (by the law): drop charge is 40 CZK plus 28 CZK per kilometer, and 6 CZK per one minute of waiting time.